News
New Web ring released

Author : Press Devision
Posted on : Friday 14 November 2014
Intricately detailed and articulated to uncompromising perfection, The Web ensnares normality in translucent threads of solid silver. The heavy, lurid design evokes rebellion and divergence from the everyday.
From concept to craftsmanship, this dramatic and dynamic wearable sculpture is a convention defying piece for those who seek the remarkable and different.
Click the link to learn more of this awesome piece.
x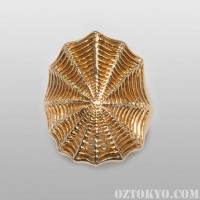 ---
---